---
Karl Rove created American Crossroads to continue his 40-year history of unfairly manipulating elections on behalf of oligarchs. He joined with the U.S. Chamber of Commerce, a cabal of corporate barons, and other CEOs that want Big Business to control our elections and our government. Rove's group plans to amass more than $50 million from companies making secret donations, and spend that money to influence elections and buy candidates who will act on behalf of those companies and their deregulatory policies. These same polices brought us Enron, the collapse of Wall Street banks, Bernie Maddoff, Jack Abramoff, the Gulf oil spill, the recent coal mining disasters, and the corporate controlled Supreme Court.
We are fighting back on behalf of the 87 percent of Americans who do not want corporations to buy politicians and control our government. We are here to tell Karl Rove to keep his dirty politics and dirty money out of our elections. We are here to tell candidates to reject everything about Rove and American Crossroads. We are here to expose this corporate oligarchy of elite insiders who act with little or no regard for constitutional protections.
We need your help!
-By Nick Wing
April 10, 2013- GOP strategist Karl Rove ventured into hostile territory on Tuesday night, delivering a speech repeatedly interrupted by boisterous protesters at the University of Massachusetts at Amherst.
According to CBS 3, the demonstrations raged both inside the auditorium and out, and Rove had barely begun speaking before people began standing up and shouting Rove down with accusations that his guidance of former President George W. Bush on the Iraq War had led to countless American and Iraqi casualties.
Calls of "murderer" and "terrorist" rained down on Rove, while others held signs that read "war criminal." Rove faced a similar confrontation by opponents in 2010, when demonstrators actually forced Rove to abandon a book signing in California.
-by Zach Carter
March 17, 2013- GOP uberconsultant Karl Rove lashed out at former Alaska Gov. Sarah Palin (R) on Sunday, mocking her decision to leave office early. Rove's criticism was a response to comments Palin made at the Conservative Political Action Conference in which she suggested the poor performance of Rove-backed candidates in the 2012 elections indicates that Rove should get out of the political consulting business.
"If these experts who keep losing elections and keep getting rehired and getting millions -- if they feel that strong about who gets to run in this party, then they should buck-up or stay in the truck," Palin told CPAC Saturday, referring to Rove. "Buck up or run. The Architect can head on back to the great Lone Star State and put their name on some ballot –- though for their sakes, I hope they give themselves a discount on their consulting services."
-By Aaron Belkin
March 16, 2013- As we mark the tenth anniversary of the U.S. decision to invade Iraq, surely it makes sense to acknowledge the consequences of our conduct, and just this week scholars at Brown University released new estimates of the war's cost in treasure and blood: $6 trillion and at least 190,000 lives lost. The magnitude of these costs makes it particularly important to understand why the nation opted for war, and to consider, in particular, former White House Senior Adviser Karl Rove's contribution to the decision, a contribution that never has attracted much attention.
-By Nick Wing
February 28, 2013- GOP strategist Karl Rove continued to defend his new elections project this week, explaining that the controversial plan to thwart Republican candidates who might be too extreme to win general elections was a response to intense donor pressure.
Speaking to the National Center for Policy Analysis, Rove said he'd decided to launch the Conservative Victory Project, an offshoot of his American Crossroads super PAC, after being confronted by disgruntled contributors unsatisfied with the group's awful record in the 2012 elections.
-By Michael O'Brien
February 20, 2013- Newt Gingrich – whose candidacy for president last year was helped enormously by a billionaire supporter – condemned a new effort to support more viable Republican candidates as "a bunch of billionaires financing a boss to pick candidates."
The former House speaker, who benefited as a 2012 Republican presidential candidate from the super PAC Winning Our Future, lashed out against Karl Rove, the former Bush political guru and founder of several Republican super PACs, on Wednesday for his effort to bounce GOP primary candidates who might fare poorly in a general election.
Gingrich wrote in the conservative publication Human Events:
I am unalterably opposed to a bunch of billionaires financing a boss to pick candidates in 50 states. This is the opposite of the Republican tradition of freedom and grassroots small town conservatism.

No one person is smart enough nor do they have the moral right to buy nominations across the country.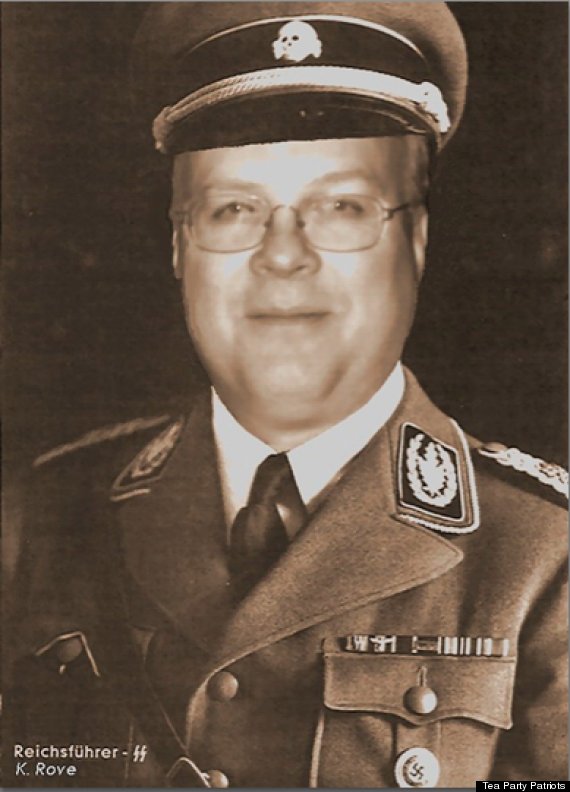 -By Lisa Miller
February 19, 2013- A tea party group portrayed leading Republican strategist Karl Rove as a Nazi in an email it sent Tuesday -- and later had to apologize for it, blaming a contractor.
The Tea Party Patriots, a well-established group within the right-wing movement, sent out the message featuring a Photoshopped image of Karl Rove in a Nazi uniform, Politico reported. The email's subject read: "Wipe the Smirk Off Karl Rove's Face."
The email was sent under the name of Tea Party Patriots co-founder and national coordinator Jenny Beth Martin in a fundraising solicitation. But Jameson Cunningham, a spokesperson for the group, said it was an unfortunate accident.
-By Justin "Filthy Liberal Scum" Rosario
February 18, 2013- Nate Silver, the oft-attacked numbers guru that accurately predicted both the 2008 and 2012 presidential elections with eerie accuracy, has some bad news for Karl Rove.
I really hope Rove completely ignores him.